Hi Joy,

I wanted to send you pictures of our Mal-shih we purchased from you last June. Oliver turned 1 year old on April 14 so I thought you would enjoy seeing the great dog he turned into.

Thank you,

Kaitlin Hinkle and Tyler Witges

Joy,

I wanted to write to you and send this photo of Ginger, a maltipoo that we purchased from you in October 2009. It is hard to believe that Ginger will two years old in June. She is the sweetest and most loving dog. She brings us great joy and is such good companionship. Ginge is a real sweetheart and has a wonderful personality! Our lives are so much better having Ginger in it. She is everything you said she was, and more. We love her so much!

Sincerely,

Cathy and Richard DeLong of Massachusetts
Joy,

Just wanted to drop you a note and thank you again for the wonderful little Morkie, "Izzy", I adopted from you on January 1, 2010. She is one year old today. She has been the joy of my life, as I have now retired. She is a sweet companion and brings me much pleasure. She still sleeps in her kennel at night in my bedroom and has never whined or cried to get out. She loves my grandchildren and is always so glad when they come over to visit. She weighs about 5 ½ pounds and still likes her veggies as well as her chicken chunks and dry dog food.

So thank you again – I have recommended you to several people who were looking for a pet!!

Sincerely, Sharon Burrell
Hi Joy,

Well, made it home..... Here's something funny. My husband does not really like animals much. I'm the animal lover and so are my kids. Guess who fell asleep in his recliner with Zoe on his lap, both sleeping? He seems to really like her. I'm so glad we came today... I'll keep you posted on how she's doing. Here are some pictures. Thanks again!

Zoe's Family,
Scott, Jennifer, Sierra and Silas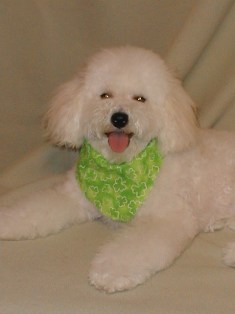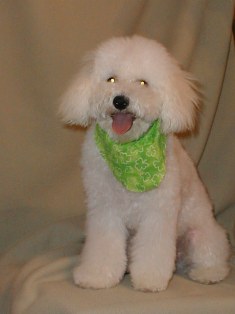 Abi, Bichon Frise
Owned By: Peggy Riggs
I wanted to email you an update on a puppy that I purchased in April 2009. He is a Morkie named Charlee. We kept the name, It suited him perfectly. He was born Jan 20th, so with his 1st birthday coming up I thought I should update you on how he has been. He is amazing. He has brought so much happiness to our family. He is so smart and loving. He gets along with all walks of life and turns heads everywhere we go. I have given out your name to more people than I can count because of our little man that you have blessed us with. My friend, not too long ago, adopted a maltipoo from you named Ginger. They kept her name as well!

Both myself and my fiancé want to thank you so very much.

Take Care,

Joleen
| | | |
| --- | --- | --- |
| | My husband and I purchased one of your westie puppies through Barb Richardson in Missouri in 2000. "Bo Jangles" is definitely the light of our lives and, without a doubt, my very best friend! There could never be a pet more delightful, loyal or loving than a Westie! Thank you so much! | |
Hey Joy,

I don't know if you remember me, we haven't talked in a while, but my name's Izabela and I purchased Toby from you. (previously Reggie) He's the Malti-poo I got from you in October of 08. I have been meaning to give you an update but just been kinda busy around here lately. Toby is our little boy. He is soo spoiled and loved just as much. He's a crazy little guy, but so fun to have around. He makes everyday exciting, and he is such a love bug. He gives kisses when we ask and he cuddles with me and my boyfriend. He sleeps above our heads every night. He is so attached to us it's adorable. I am so happy I got him from you, it was really scaring ordering a dog online but you made the experience so amazing, you even sent me the best dog food attached to his cage because you knew it was expensive and hard to find. I have never met a breeder so involved in the process and so involved with each and every puppy. You answered all of my 1000 questions, I was like a new nervous mommy and you gave the best advice. I will definitely recommend you to anyone looking for a loving pet. Here are some pictures of Toby.

Love,

-Izabela, David

&

Toby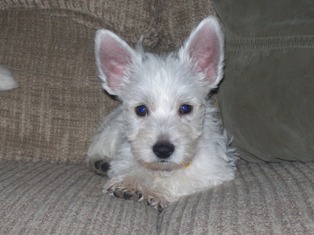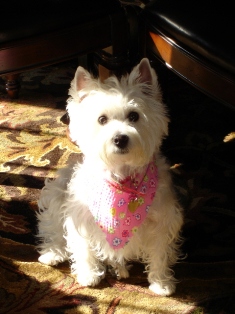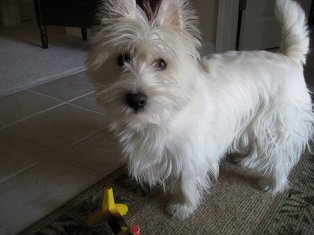 Dear Joy,

Needless to say how our lives have been changed since we added Gigi in our family ? She's now the Joy of the family, and her granny and Mom are both very happy, same as all friends who are coming to meet her with gifts and toys ... please see a pic of last week (she's growing every day ).

I've tried to follow your instructions and feeding schedule very tightly. She enjoys her alternative food better than dry food, although sometimes I delay it to push her to eat dry food. So far everything is great, she's a playful puppy, smart and surrounded by care and love. She likes to take a nap in the living room facing her Granma and Mom when they're both watching TV, but she knows that she has to take naps and bedtime in her crate and there she goes without much protesting.

I've made an appointment with a local Vet for her second shots on 3 November.

Thank you Joy for bringing this Joy to our family.

With best regards,
Graciela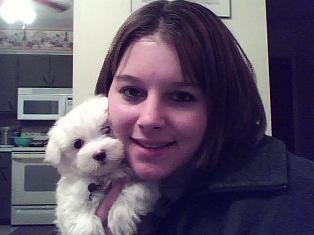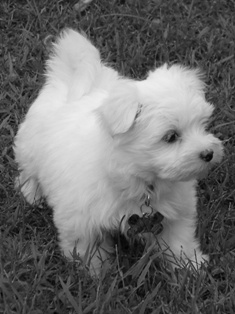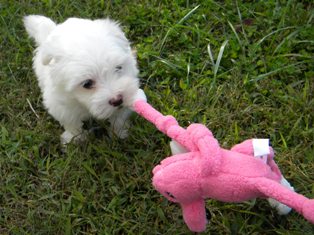 Ashley with Gracie
Joy,

I wanted you to see pictures of our precious little girls on their first birthday, Oct. 5. We had white cup cakes and vanilla ice cream and the girls wore paper crowns since they were the "Guests of Honor". The crowns didn't stay on very long, and the cupcakes and ice cream gave them diarrhea the next day, BUT they totally enjoyed eating it. They also got all the gourmet doggie bones they could eat all day long, and they got new chewy bones for gifts. Some people say we "spoil" our animals, but we really don't, we just love them like family.

Tammy
Yes, Pebbles is a MaltiPoo that came from your kennel back in 2005 (her BD is 7/9/05; she flew on 9/11/05).

I don't watch much TV, but a friend told me to turn it on one day to see a show. I stopped searching for the show and kept the TV on whatever station it landed on. I wasn't really watching it, but heard the commercial for the contest advertised. I jotted down the Web site and checked it out later in the day. It was almost like I was meant to have the TV on that day to find out about the contest. It would be so cool for her to win, she's the best!!
Hi Joy,

On the 2ND of January Bebe, Lady Bug and I went to the Animal Fitness Center in Union for her checkup...

She is such a delight and Lady Bug is really enjoying her company too. She is my little baby and I would not part with her even if someone came up to me and offered a Million Dollars for her. I'm hooked.

Here are some pictures of Bebe and the girls around the Holidays. Hope you had a great Christmas and New Years. Talk to you later.

Debbie, Lady Bug and Bebe
Hey Joy!!!

I just wanted to let you know that Roxy is doing great...She is such a great dog, and we are thrilled with her.. She is almost housebroken and she is wonderful with the kids and everyone that comes in our home. Thank you so much for doing such a great job with her in the beginning.

Jana Smith
Joy,

I just wanted to drop you a line and let you know how happy we are with our Westie, Coco, that we got from you in March this year. I was skeptical about driving 8 hours to get a puppy I had not seen in person, but we absolutely adore her and could not imagine a better Westie. She is adorable as evidenced in the photos and has the sweetest, spunky personality. She has even won over my husband, who was not a fan of getting a dog, but turns to a pile of mush as soon as Coco runs over with a toy in her mouth to play. Coco usually prances around the house with her favorite stuffed rabbit in her mouth. Coco also has my husband well trained as she often rolls over for a belly rub at his feet and he obliges with a big smile on his face.

Thanks so much.

Happy Holidays,

Brenna Marlin and family, husband Guy and son Matthew

Simba
May 2000- May 2010

In Loving Memory of Simba....

It all started on a family vacation to Florida in 2000. My husband, Roy and I had always agreed that we would not have an inside dog. Things changed when I met a little Shih Tzu who stole my heart at first glance....

We would love him abundantly and make all of his wishes came true. He was the most perfect Shih Tzu ever. Let us introduce you to our precious, Chi He Shou Wo Richardson (Simba).


That's fine if you want to use us at a reference, we would be glad to help you in any way that we can!!!! You produce great dogs. And trust me buying her out of state was very scary, but I would do it all over again!!

Thanks
Kim

Dear Joy,

Just wanted to drop you a line and let you know that our new addition is doing great and has become a wonderful part of our family (says everyone except the cat who has not quite warmed up yet). Here are a couple shots of Sophie with big brother Archie. Thanks so much for everything!

Jeanne
Hi Joy:

It's a been a long time! Beignet is doing great and is as spunky as ever! We wanted to pass along some recent pictures of him. One of them is his graduation from obedience training. He was so happy that day!!!

Hahahahaha! In the picture you can see I'm holding his cap on his head! There are also some other pictures of him. As you can see, we're really enjoying him.

Have a great day!

Julie & Michael Breaux




Just an update on our sweet boy Harvey...what a wonderful addition to our family.

Thank You

Christmas was wonderful

--
Trish S Ralph
Hi Joy.........wanted to let you know that Daisy is doing great and getting use to Florida. We went to a dog friendly park and beach on the Gulf of Mexico and she had a lot of fun and can swim!!!!!!!! Sending you some pics of her. We go riding on our bikes and since she can't run as fast as we bike we got a dog backpack so she can go with us. We will be taking her to obedience training sometime this month.

I do have a question..............how old should she be to get her first haircut?

Hope everything is fine with you.

Ineke
Westie, Daisy

Hi Joy,

Mia had her first grooming today at the vet office, and she was not impressed with getting cut or having her ear hair removed. She is really cute now! (Pictures included)

Have a good weekend!

Lynne
Mia, Bichon Frise
As I was looking though your great site I noticed updates on the adopted babies you so beautifully breed for us. We bought our first (and thus far only) Bichon Frise, Teddi Bear Blair, from you on Christmas Eve of 1994! I have never experienced such amazing allegiance, joy and comfort she has brought to our Family. When my Dad was so ill she went to the hospital and the nursing home visiting with everyone as if she had been trained to do so. She has been an awesome gift in our lives as my health declines. Her only health problems are her allergies for which she receives monthly injections and now is loosing her sight to cataracts. She is still strong willed, loving and once in a while does her Bichon Buzz. A simple thank you will never be sufficient, but we will be back to see you for another Bichon baby when the time comes.



Bichon Frise, 15 Years Old
Teddi Bear
Dear Joy,



Romeo arrived safe and sound on Friday. He is absolutely a beautiful, healthy dog with a wonderful disposition. I brought him to the vet on Saturday morning and they gave him a glowing bill of health and told me that you took great care of him. Several of the staff at the vet's office came in the room to visit him because word spread that he was such cutie.

I have an amazing and unexpected turn to the story....on Saturday, I brought the dog to my parents' house where he was greeted by a flock of my nieces and extended family. Two of the little girls in my sister-in-law's family (ages 6 and 8), have had extreme allergic reactions to puppies they have had in the past. Coincidently, they had been looking at a yorkie just the week before, and had wanted to see Romeo. I was going to an event on Saturday night, so they asked if they could babysit for Romeo -- more specifically, their mother wanted to see if they would be allergic to him. No doubt you have guessed what happened -- they absolutely fell in love with him and have had no allergic reaction. One thing led to another, and I decided to give them Romeo.

I've taken some pleasure in knowing that I have made two little girls very happy, but am feeling very emotional at the same time. The fact that I will get to see him once in a while is comforting. I don't know that I am ready to think about another dog, but if and when I am, I will be sure to contact you. Again, Romeo is such a beautiful dog, and I can't thank you enough for helping to bring him into our lives.

Warmest Regards,
Phyllis

Merry Christmas Joy

Attached you will find a few pictures of the newest addition to our family..Sasha. I let me daughter name her. The first day has been pretty good. I've laid the ground rules down to my daughter. She did pretty good. She seems to like outdoors. She's good with the crate and loves to play....

I hope you and your family had a merry Christmas. Also, Jean is wonderful. Like you she has been a pleasure to work with.
Tribute to Bogey...

Joy,

I found your website and wanted to write to let you know we purchased a Shih Tzu from you back in 1991. He was the last pick of the litter and what a sweetheart he was! He was born in April of 1991. He became ours in July. He was tan, black and white. We named him Bogey. He brought us 17 years of unconditional love and joy. We miss him dearly. He passed away last July. It still seems like yesterday. He had a wonderful life and was still very spunky for an elderly dog.

Terri Beaubeaux




Hi Joy,

Hope you had a good weekend. Just wanted to send you a picture of Pat, myself, and little Wrigley (formerly little Bennie) that was taken today. We're a happy little family of three! Thank you for such a good puppy!!

Thanks,
Julie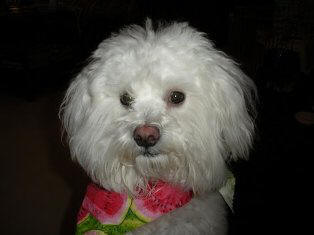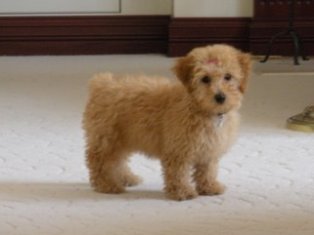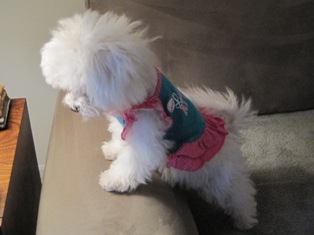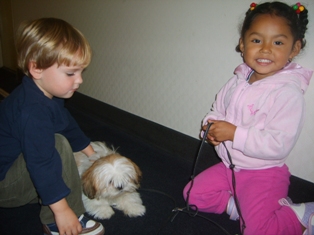 Hi Joy,

I hope you're doing well. I purchased my Maltese from you, I'm sure you remember. Brodie is the love of my life! He is just wonderful! My son and daughter in law are looking for a Maltese puppy, female. I went on your site and I don't see any pure Maltese puppies. I think Maltipoo would be ok too, but do you have any female maltese puppies available or will you in the near future?

I've attached some photos of Brodie!

Thanks Joy,
Kim Burton

Hi Joy,

I've been meaning to e-mail or call you. I'm sorry it's taken me so long to get you an update on our new baby.

First let me say Zoey fits in so wonderfully with our little family! As I told you on the phone a few weeks ago, we also have a 90 lb. yellow lab (Chopper). They LOVE each other!! He will get his rope and lay down with it and let Zoey pull on it! It is so adorable. Zoey also enjoys chasing our cat, Chase. Chase also enjoys chasing Zoey since they are about the same size. It kind of seems I adopted a new pet for my pets. Ha ha!

Potty training is going very well. I have recently read an article on how to train your dogs to ring a bell when they have to go out. It started out slow, but is coming along nicely!

Thanks a bunch!! We love our puppy soo MUCH!! And doing business with you was a wonderful experience. I don't think I told you, but I called about 30 breeders the day I called you and you were the nicest and the most informative one! That was really my deciding point in which to buy the puppy from you. So, thank you!!

Emily Ely Maltese 2007


Me & Zoey